Choosing the Right Longboard Wheels
Simply put, longboard wheels are the part of your skateboard that allow you to move, and help determine how fast you can go. Typically made of polyurethane, longboard wheels come in a range of sizes, colors, and durability levels to suit your skateboard style and preference. Longboards often use larger, softer wheels than traditional shortboard skateboards and because of this they offer a smoother ride on rough terrain.
However, the size of the wheels also makes longboard skateboards more susceptible to wheel bite, which occurs when your deck and wheels rub together during hard turns or when landing a trick. This can leave an indent where the deck meets the wheels. Equipping your longboard with riser pads and/or mid to high longboard trucks is a good way to reduce wheel bite, depending on your skating style.
Like traditional skateboard wheels, longboard wheels are also measured by diameter and durometer. Shape also plays a role when buying longboard wheels. Wheels with rounded edges facilitate easy sliding, freeriding, and cruising. However, they can be problematic when downhill racing, as the edges won't grip the pavement as hard during turns. Straight-edged wheels give you more grip and control at high speeds.
Come check out Warehouse Skateboards huge selection of longboard wheels--we carry lots of different colors, styles, and brands.
---
Choosing longboard diameter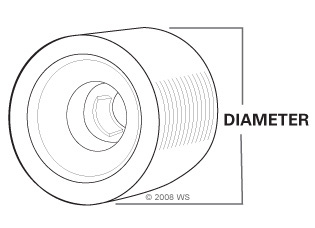 Longboard wheel diameter is measured in millimeters (mm). The lower the number, the smaller the wheel. Smaller wheels result in a slower ride, and larger wheels result in a faster one. If you want to commute quickly and smoothly, a big wheel longboard or cruiser is a good choice. Wheel diameter also affects how quickly you accelerate and how tightly you can turn.
Longboard wheel size begins at around 54mm and can be upwards of 60mm. Keep in mind that your height and weight can affect what size wheels feels right for your board.
| | |
| --- | --- |
| 54-59mm | Average wheel size for beginners and bigger riders skating street, skate parks, bowls, and vert ramps. |
| 60mm + | Specialty riders skating longboards, old-school boards, downhill, and dirt boards; made for speed and rougher surfaces. |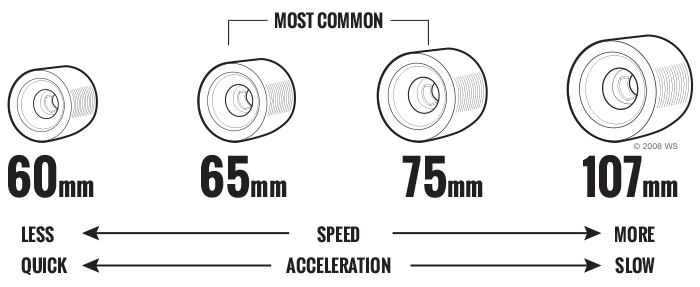 ---
Top Selling Wheels
---
Choosing longboard durometer
Durometer measures how hard your longboard wheels are. Generally speaking, harder wheels are faster, and softer wheels are slower but have better grip. Because of deck length and width, longboards require larger, softer wheels to provide the rider with stability, as opposed to shortboards, which use smaller, tougher wheels.
Most companies use the Durometer A Scale to measure hardness, which goes from 1-100. The lower the number, the softer the wheel. Other companies may use the Durometer B Scale, which measures 20 points lower and allows the scale an extra 20 points for harder wheels. For example, a 60b durometer is the same hardness as an 80a durometer. Longboard wheels that use the B Scale have a wider and more precise hardness range. Most longboard wheels fall between 75a-90a.
Here are some general guidelines for longboard wheel durometer.
| | |
| --- | --- |
| 78a-87a | Soft wheel good for rough surfaces, longboards, or street boards that need lots of grip to easily roll over cracks and pebbles. Designed for smooth rides, cruising, longboards, hills, and rough surfaces. |
| 88a-95a | Slightly harder and faster with a little less grip, but the grip's still good. Good for street and rough surfaces. |
| 96a-99a | Nice speed and grip-- an all-around good wheel. Great for beginners skating street, skate parks, ramps,pools, and other smooth surfaces. |

---
Choosing wheel shape
When it comes to picking out the perfect set of wheels for your longboard, the shape can be just as important as the size and durometer. Deciding on the correct shape for your wheels can be the difference between slipping out during a downhill race or catching the perfect turn and advancing. Here is a breakdown of a few basic skateboard and longboard wheel shapes.
---

Square Edge
Square edged wheels look exactly as their name suggest: square. Wheels with squared off edges are known for their grip, so if your style skating demands contact with the ground at all times to maintain speed, these should be your weapon of choice (hint, hint, slalom and downhill riders).

---

Beveled Edge
Beveled edge wheels are the middle children of the wheel family. They're not flat at the edges, but they're not round either. Wheels with a beveled edge are cut at an angle on the side, giving you a contact patch on the very edge of your wheel, which can come in handy while taking a turn while bombing hills.

---

Rounded Edge
If carving and sliding are anywhere in your longboards future, make sure you have wheels with a rounded edge. Much like a car, you wouldn't want to drift a turn with completely square tires. A rounded edge gives your wheels less friction on the pavement when you force your board into a slide.
---
Choosing wheel core
Quality skateboard and longboard wheels have a plastic core inside the wheel that the bearings rest on. Wheel cores have two main purposes, both of which are important. The main purpose of the core is to spread heat from the rotating bearings (which get extremely hot at high speeds) evenly throughout the wheel to prevent melting or deforming. When browsing through the hundreds of wheels on our site, you may notice that some wheels are 100% polyurethane while others have a plastic core, or even a dual core where the bearings are inserted. Read on for details on the basic longboard wheel core types.
Backset Cores
Wheels with backset cores will have a core that is even with the back of the wheel. Backset cores allow a little more play on the outside of the wheel, which is great for carving and sliding.
Centerset Cores
Centerset cores are located just where you thought they were: in the center of your wheel. Most wheels with cores that are used for street and vert skating fall under this category. Why? For one, having symmetrical cores allow riders to rotate and flip them like all other wheels. Wheels that are backset or sideset can't be flipped due to the location of the core. Centerset wheels also distribute weight equally throughout the wheel, resulting in a longer lasting shape.
Sideset Cores
Sideset cores are right in between backset and centerset cores as far as location. Sideset wheels are typically considered the grippiest of the wheels, due to weight distribution towards the outside of the wheels and the support from the core near the back of the wheel. However, keep in mind that wheels with a sideset core cannot be flipped due to the core's location.
---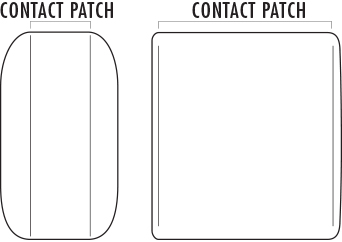 Contact patch size
Contact patch is an important feature of longboard wheel performance. A wheel's contact patch refers to the area of the wheel that actually makes contact with the pavement. If you have large longboard wheels, your contact patch will also be large.
So why is contact patch important? If you have a large contact patch, your weight will be distributed over a larger area. This reduces the compression of the urethane in your wheels and decreases rolling resistance, which can slow down your wheel.
Wheel shape affects the size of your contact patch as well. Rounded wheels make less contact with the pavement, while square wheels make maximum contact with pavement. The placement of contact patches can also affect wheel performance.
Check out the variety of longboard wheels currently in stock.
For more information on longboard skateboard wheels and other components, check out How To Build A Skateboard.
For the 101 on maintaining your longboard wheels, check out our Longboard Wheel Maintenance Guide.
---
Longboard Buyer's Guides
Still have questions?
We are Warehouse Skateboards. Our goal is to provide you with great customer service and information to make an informed skate purchase.
Give our customer service team a call at 877-791-9795. They will help you find the right products to fit your skateboarding needs. Still have questions? Please fill out our simple contact form.