How to Choose the Right Skateboard Bushings for Trucks
What skateboard truck bushings do I need?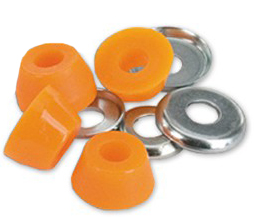 Skateboard truck bushings are the rubbery rings that fit around the kingpin on your skateboard trucks. Typically made of polyurethane, the bushings assist in allowing your board to turn and pivot smoothly. There should be two bushings on each truck (four total). The top bushing, which is on the kingpin above the hanger, helps the skateboard truck turn smoothly. The bottom bushing, which is on the kingpin between the hanger and the baseplate, can be tightened or loosened depending on how responsive you want your trucks to be.
Stiffer bushings will result in a more resistant board, which can be an advantage when performing tricks. For easy movement when cruising or carving the streets, looser bushings are a good option. Bushing tightness depends on each rider's preferences, and bushings can be easily adjusted to suit your needs. Skateboard truck bushings are all the same size, and will fit any skateboard, longboard, or cruiser sold on Warehouse Skateboards. Check out the available skateboard truck bushings currently in stock.
---
About skateboard truck bushing durometer
To determine the hardness of the skateboard bushings, we refer to the durometer. Skateboard bushing durometer is usually measured on a Durometer A Scale which goes from 1-100 to measure hardness. Some companies use the B Scale which measures 20 points lower, allowing the scale to be extended by 20 points for harder bushings. So an 80b durometer is the same as 100a durometer.
Skateboard truck bushings are measured by durometer, or hardness. Most companies use the Durometer A scale, which ranges from 1-100 (the higher the number, the harder the bushings). A handful of companies use the Durometer B scale, which measures 20 points lower and allows the scale an extra 20 points for harder bushings. For example, an 80b durometer is the same hardness as a 100a durometer. These skateboard truck bushings have a wider and more accurate hardness range.
Softer bushings are easier for your hanger to compress, and therefore it is easier to turn on softer bushings. Harder bushings result in stiffer turns. Importantly, how tight or loose you keep your bushings also effects your skateboard's turn responsiveness.Softer bushings are easier for your hanger to compress, and therefore it is easier to turn on softer bushings. Harder bushings result in stiffer turns. Some skateboarders choose different durometers for the top and bottom bushings.
---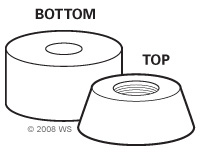 Skateboard bushing shape and style
In addition to durometer, the shape of your skateboard bushings is also a big factor. In recent years, skateboarders have been experimenting with different bushing shapes to accentuate their rides. Some bushings are symmetrical between the top and bottom, but in some sets the top and bottom bushing are shaped differently.
The three basic shapes of skateboard bushings are conical, barrel, and eliminator. How these shapes are mixed and matched within a set leads to a handful of common bushing styles. Here is a detailed breakdown of the basic bushing styles on the market today:
---

Cone/Barrel Bushings
Cone/barrel bushings (also known as standard barrel or conventional bushings) are the most common shape for skateboard bushings because they are so versatile. The bottom bushing is barrel shaped, which allows it to fit securely into the bushing seat, and the conical top bushing creates a lot of deck lean, making it easier to carve. Many riders put a tougher durometer bushing on the bottom to maximize the capabilities of conventional bushings.

---

Double Barrel Bushings
As the name suggests, the top and bottom bushings are identical and barrel shaped. These bushings are also called downhill bushings because the superior stability they offer makes them a great choice for skating downhill at high speeds. They won't allow for as much turn as a conical bushing, but that can be somewhat offset by choosing a softer durometer.

---

Cone Bushings
This style features two conical bushings, and because of the high amount of deck lean they allow for, they are also known as super carve bushings. These bushings are intended for sharp turns and carving.

---

Double Stepped Bushings
Stepped bushings are similar to barrel shaped, except they have indents cut out on the top and bottom (you may also hear them called step-barrel). Rocking two stepped bushings on your truck creates a lot of lean resistance, but also a ton of rebound. Double stepped bushings will make for very tight trucks, even if you are using a softer durometer.

---

Barrel/Stepped Bushings
Combining a barrel on top with a stepped bushing on the bottom creates a lot of stability in the trucks. This is a good choice for downhill longboarding, where stability is key rather than making sharp turns. This combination of bushing shapes on the top and bottom will give you lots of rebound.
---
Components related to skateboard bushings
Bushing Washers
Bushing washers are round metal washers that fit under skateboard bushings on each truck, and are installed by simply sliding them on the kingpin. The purpose of bushing washers is to prevent the bushings from getting deformed by the pressure exerted on the trucks. A total of four bushing washers will be included when you purchase skateboard trucks. In most sets, the washers will be all the same size, though some manufacturers will include two smaller washers (for the top bushing) and two larger washers (for the bottom bushing). So, from top to bottom around your kingpin, the setup should be as follows: bottom washer, bottom bushing, bushing seat, top bushing, top washer, lock nut. Whew!
Bushing washers can be flat or slightly cupped at the edges. Flat washers allow the bushings more lateral slide, and allow them to stretch a bit more. Cupped washers restrict bushing movement, which further prevents the bushings from deforming or blowing out completely. In other words, flat washers provide low resistance, and cupped washers provide higher resistance. The shape of bushing washer you choose should match up with the shape of bushing you're using in order to function properly. Also, be careful not to pair cupped bushing washers with overly soft bushings, as the edge can cut into the bushing and damage it.
Bushing Seats
Simply put, a bushing seat is the indented spot around the hanger opening where the bushings will sit. The kingpin fits through the opening, and the bushings are then fitted around the kingpin. The primary function of bushing seats is to support the bushings and keep them from compressing too much under the pressure of riding.
There are two main categories of bushing seats: open and restrictive. Restrictive bushing seats are more enclosed and have taller walls so the bushings fit securely into them. Open bushing seats are not as deep, and because of this they compress the bushing seat less and create less resistance. Regardless of which bushing seat shape you choose, it's important to match your seats with the right kind of bushings. How tight your bushing seats should hold your bushings really depends on your personal preferences and what style skateboarding you're doing.
For the 101 on replacing your bushings, check out our Skateboard Trucks Maintenance Guide.
Check out the available skateboard truck bushings currently in stock.
---
Top Selling Bushings
Still have questions?
We are Warehouse Skateboards. Our goal is to provide you with great customer service and information to make an informed skate purchase.
Give our customer service team a call at 877-791-9795. They will help you find the right products to fit your skateboarding needs. Still have questions? Please fill out our simple contact form.