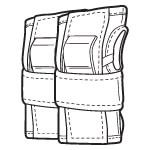 What are skateboard wrist guards?
Skateboard wrist guards are worn to support and protect the your wrists when skateboarding or longboarding, which are very susceptible to injury if you wipeout. These skateboard pads offer shock absorption during impact. Wrist guards are fully padded on all sides, and their wrap-around Velcro makes them easy to adjust.
Skaters of all levels wear wrist guards to protect themselves, from beginners to those learning risky new stunts and skate tricks. If you are skating on ramps, rails, or at a high-traffic skate park, we highly recommend wrist guards to prevent breaking, spraining, or fracturing your wrists.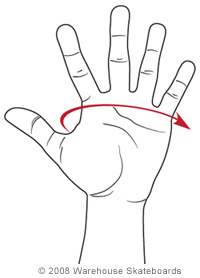 Check out Warehouse Skateboards' selection of skateboard wrist guards to find the perfect pair for you. Our online skate shop has all of the brands and styles you are looking for.
Properly measuring for skateboard wrist guards
While most wrist guards are adjustable, it is still very important to accurately measure your hand and knuckles to guarantee a solid fit. To measure your hands when buying wrist guards, use a soft tape measure to measure around the four knuckles at the widest point, excluding the thumb. Consult the sizing chart below to find the best fit for you.
Skateboard wrist guard sizing chart
| | | | | |
| --- | --- | --- | --- | --- |
| | Small | Medium | Large | X-Large |
| Hand Width | 5" - 6" | 6" - 7.5" | 7.5" - 9" | 9" - 11" |
Check out our selection of skateboard wrist guards.
Top Selling Pads
Still have questions?
We are Warehouse Skateboards. Our goal is to provide you with great customer service and information to make an informed skate purchase.
Give our customer service team a call at 877-791-9795. They will help you find the right products to fit your skateboarding needs. Still have questions? Please fill out our simple contact form.