Choosing the Right Size Skateboard Hip Pads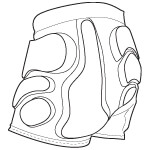 About skateboard hip pads
Hip pads are mesh fabric shorts or pants that are designed to protect your hips and bottom if you wipeout or fall on your skateboard. Sometimes called tailbone pads, thigh pads, or padded shorts, they greatly reduce the risk of breaking or fracturing your bones. Often worn in addition to other skateboard pads, they are very important when skating ramp or rail.
Warehouse has a variety of skateboard hip pads in stock, including slim-fitting and low-profile styles. Unlike the bulky hip pads of the past, modern pads will protect you but won't restrict your movement. We carry full-coverage, low-profile hip pads in all sizes that will accommodate skateboarders at any experience level. Our hip pads are all unisex and are measured by waist size.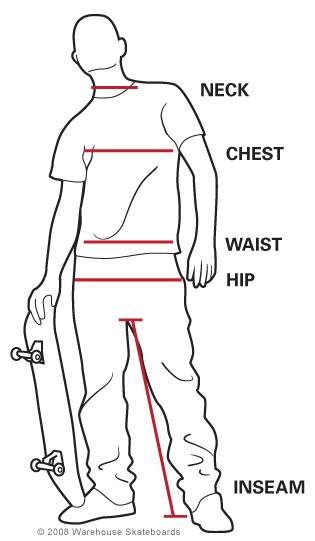 Properly measuring for skateboard hip pads
Your waist size is the only thing you'll need to determine what size hip pads to purchase. Follow these instructions to get an accurate measurement for your waist.
1. To get the most accurate measurement, roll up your shirt so it's just under your chest.
2. Locate the middle your waist, which is the fleshy section of your torso between your hipbones and ribs.
3. Breathe out, and wrap a soft tape measure evenly around the circumference of your waist.
4. Read and record your waist size in inches.
5. Consult the following chart to determine the hip pad size for you.
Hip Pads Sizing Chart
| | | | | | |
| --- | --- | --- | --- | --- | --- |
| | Junior | Small | Medium | Large | X-Large |
| Waist | 22" - 27" | 26" - 30" | 29" - 33" | 32" - 38" | 36" - 42" |
Once your hip pads arrive, make sure you test your range of motion by bending the leg at the knee, feeling for restriction or unnatural movement.
Check out our selection of skateboard hip pads.
Top Selling Pads
Still have questions?
We are Warehouse Skateboards. Our goal is to provide you with great customer service and information to make an informed skate purchase.
Give our customer service team a call at 877-791-9795. They will help you find the right products to fit your skateboarding needs. Still have questions? Please fill out our simple contact form.