Choosing the Right Longboard Skateboard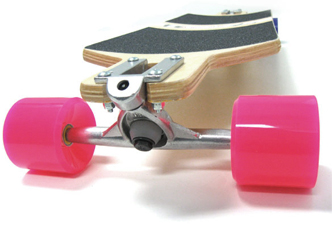 Welcome to longboarding! Whether this is your first time buying a longboard, or you've been cruising for years, Warehouse Skateboards has everything you need to get your longboard street ready. We've covered every aspect of buying, assembling, and maintaining a longboard skateboard to make it as easy as possible for you. Warehouse Skateboard has a gigantic selection of longboard skateboard completes, or you can shop for individual parts, allowing you to build a complete skateboard exactly how you want it.
About longboard skateboards
Put simply, a longboard is a skateboard with a deck longer than 33". They have become increasingly popular over the years, and appeal to many people because they are easy and fun to ride. Even if you've never been on a skateboard before, you can learn to ride a longboard in no time. Longboards are fully customizable to fit exactly what you want out of your skating experience. Cruiser, downhill skateboard, and slalom are all types of longboard.
Many people ride longboards for transportation--their maneuverability and speed make them ideal for commuting to class, or simply cruising around. Compared to a traditional street skateboard, longboard decks are constructed and shaped to give riders a wider, more stable stance when cruising, carving, or riding downhill. In addition to deck size, longboard wheels are typically larger and softer than that of shortboards, which makes for a smoother ride. Longboards are also used competitively for slalom and downhill racing because of their speed capabilities.
---
Top Selling Decks
---
About longboard skateboard completes
If you're new to skateboarding or don't want to customize your own longboard, pre-assembled completes are a great option. Warehouse Skateboards has many completed longboard skateboards for sale, which are constructed from the same quality parts that we sell individually.
How to build a custom complete longboard
If you want to make your own skateboard, which allows you more opportunities to customize your skateboard, check out the list below for what you will need to get started.
Check out our How to Build A Skateboard instruction video.
---
Longboard Buyer's Guides
Still have questions?
We are Warehouse Skateboards. Our goal is to provide you with great customer service and information to make an informed skate purchase.
Give our customer service team a call at 877-791-9795. They will help you find the right products to fit your skateboarding needs. Still have questions? Please fill out our simple contact form.