How to Choose the Right Size Skateboard Gloves / Slide Gloves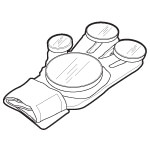 About skateboard gloves
Skateboard gloves, also known as slide gloves, are specially designed to protect your fingers and palms. They are made of durable, flexible fabric, and downhill slide gloves also feature a thick plastic puck on the palm of the glove to protect your hand during many skate tricks. Whether you're just beginning or riding pro skateboards, skateboard gloves are a must.
Skateboard gloves make it easy to handle the toughest falls, and recover quickly. Riders of all skill levels wear skateboard gloves, and they're particularly useful for competitive riders learning edgy new tricks and stunts. These skateboard pads are especially important for downhill skateboarders because of the high speeds reached.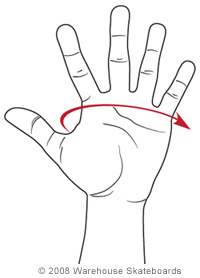 Warehouse Skateboards has many different skateboard gloves styles and brands in stock for skaters of all levels.
Properly measuring for skateboarding gloves
To measure your hand for skateboard gloves, measure around the fullest part of your palm, excluding the thumb. Below is a general chart for skateboard glove size.
Skateboard Gloves Sizing Chart
| | | | | |
| --- | --- | --- | --- | --- |
| | Small | Medium | Large | X-Large |
| Hand width | 7" | 8" | 9" | 11" |
Check out our selection of skateboard gloves.
Top Selling Pads
Still have questions?
We are Warehouse Skateboards. Our goal is to provide you with great customer service and information to make an informed skate purchase.
Give our customer service team a call at 877-791-9795. They will help you find the right products to fit your skateboarding needs. Still have questions? Please fill out our simple contact form.