Choosing the Right Size Skateboard Hardware
About skateboard hardware
Skateboard hardware, also known as mounting hardware, is used to connect the skateboard trucks to the skateboard deck. Each truck requires four bolts and locknuts. Hardware is sold in sets of eight, though you can purchase parts individually as needed. The screws may have an Allen or Phillips head.
The length of the screws you will need depends on what style skate deck you have, and whether or not you install risers. Skateboard hardware comes in many different lengths, and often includes one different colored bolt so you can mark the nose of the skateboard.
Hardware will naturally wear over time, like other screws. If you notice that the bolts look stripped or rusty, it's a good time to invest in a new set. Doing a lot of skate tricks on your skateboard can wear down your hardware even quicker. Hardware sets are generally inexpensive, and can be easily extracted and replaced with a screwdriver.
Warehouse Skateboards has a range of skateboard hardware sizes, colors, and brands in stock to suit your needs. We also sell bolts and locknuts individually if you don't want or need an entire set.
---
Choosing skateboard hardware size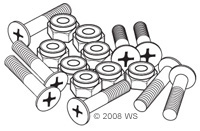 The best hardware size depends on what type of skateboard you have. For most shortboard applications, the standard hardware length is 1". For a longboard or cruiser, 1 1/8" is a good standard. If you choose to add a riser to your board, which increases the space between the deck and the skate trucks, you will need to adjust the length of your hardware. Below is a general guide for hardware size.
7/8" to 1" hardware - no riser
1" to 1 1/8" hardware - 1/8" riser
1 1/4" hardware - 1/4" riser
1 1/2" hardware - 1/2" riser
Check out the skateboard hardware we currently have in stock.
For more information on skateboard hardware and other components, check out How To Build A Skateboard
---
Still have questions?
We are Warehouse Skateboards. Our goal is to provide you with great customer service and information to make an informed skate purchase.
Give our customer service team a call at 877-791-9795. They will help you find the right products to fit your skateboarding needs. Still have questions? Please fill out our simple contact form.