Choosing the Right Longboard Skateboard Trucks
Longboard trucks are the metal T-shaped pieces that mount onto the underside of the longboard deck and attach to the wheels, and are a necessary component if you want to build a complete skateboard. Every longboard requires two trucks, which can be measured by hanger width or axle width. Although their purpose is similar, longboard trucks are extremely different than standard skateboard trucks. Longboard truck hangers are wider to accommodate the difference in deck size (most longboard trucks are either 150mm or 180mm). Because of this size difference, skateboard trucks and longboard trucks can't be used interchangeably.
Longboard trucks sometimes feature "inverted" or "reversed" kingpins. A longboard truck is known as a "reverse kingpin" truck because the axle is on the other side of the kingpin compared to a standard truck. Longboard trucks feature softer bushings to allow for easy turning and maneuverability. Downhill longboard trucks should have stiffer bushings to stabilize the longboard at high speeds.
When buying longboard trucks, you will receive the two skate trucks necessary to assemble your longboard. Keep in mind that trucks themselves consist of several different parts (the hanger, the kingpin, the bushings, and the axle), which can be purchased and replaced separately. Longboard trucks come in various sizes and colors, and Warehouse Skateboards carries a huge selection of longboard trucks brands to fit your personal preference.
---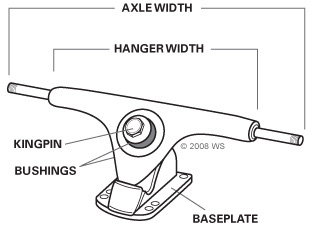 Features of longboard trucks
Longboard trucks are made up of several main components:
Axle
The axle is the long pin that runs through the hanger and will attach to the wheels.
Hanger
The hanger is the triangular metal piece that is the largest part of the skateboard truck, and supports the axle, which runs through it.
Kingpin
The kingpin is the big bolt that fits inside the bushings and holds the skate trucks parts together. Recently, hollow kingpins (and axles) have been on the rise, because they are lighter weight but don't compromise strength or durability.
Bushings
The bushings are the soft urethane rings fitted around the kingpin to allow the board to turn and pivot smoothly.
Regardless of what type of board you're rocking, you will need quality trucks. However, if you are riding a vintage board (pre-1990s), your skateboard won't fit most of today's trucks. Contact our customer service to inquire about vintage skateboard fittings.
---
Choosing the right longboard trucks size
Longboard truck hanger width
The axle is the long, thin piece of metal that runs through the hanger and connects to the wheels. For longboard skateboards, hanger width should roughly match the width of your deck. For a 9" deck or wider, you will need a minimum of 180mm hanger width. Cruisers and carving longboards that are narrower can get away with 150mm hanger width.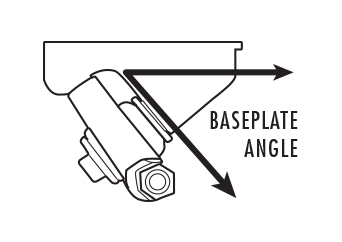 Longboard truck baseplate angle
The baseplate is the rectangular metal piece that screws the deck to the rest of the truck. Baseplate angle actually refers to the angle of the kingpin relative to the baseplate. The angle of the baseplate plays a major role in how well your longboard handles turns. If your truck setup has a higher baseplate angle (a 50-degree angle, for instance) this allows for sharper turns because of the increased deck lean. If your skate truck setup is attached at a low angle, the trucks will turn less.
Generally speaking, a 50-degree angle will allows you to carve and cruise, and provide enough stability for most downhill riding as well. A 44-degree angle baseplate with a 180mm hanger is optimal for an experienced or competitive downhill rider. Be aware that you can also change your baseplate angle by adding angled risers to your setup--check out our risers section for more info.
Deck lean
Anytime you turn your skateboard or longboard, your deck shifts slightly to that side because of the downward force you are applying to the rails. This is known as deck lean, and some boards will have more deck lean than others. Deck lean is determined by the tightness of the trucks (tighter = less lean, looser = more lean), the stiffness of the deck material, and how much pressure you apply. The height of your trucks plays the biggest role in how much deck lean you can achieve. The taller your trucks are, the higher your deck is from the ground, and the more room you have for deck lean. This is why riders with low trucks should be careful not to apply too much pressure to the rails--too much deck lean in that case can lead to deck bite, and a nasty wipeout.
Generally speaking, the more deck lean your board achieves, the more severe your turn will be. There is no right or wrong amount of deck lean. You should adjust your board for lean based on your personal preferences, and what kind of skating you'll be doing (hint: boards with more deck lean are better suited for carving and cruising). The right amount of deck lean can also keep you safe on your board. For instance, skateboards with minimal deck lean are recommended for downhill skateboarding because of the increased stability.
---
Truck options
Traditional vs. reverse kingpin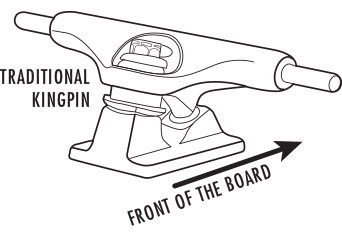 There are lots of different variables when deciding what trucks to ride, and choosing a direction for your kingpin to face is an important one. Traditional trucks and reverse kingpin trucks are the two main categories of truck style. In a reverse kingpin (RKP) set up, the kingpin is on the opposite side of the axle, and so the kingpin points in a different direction. For this reason, if you are riding reverse kingpin trucks, your kingpins will be facing away from each other, rather than towards each other as in traditional set ups.
Because of their shape, reverse kingpins turn more and are taller than traditional trucks, which make carving and turning a breeze. Of course, baseplate angle also really affects how much turn and lean you get with your RKP. You can offset the turn and lean you will get with reverse kingpins by changing the baseplate angle. For this reason, you can find all types of longboarders riding reverse kingpin trucks.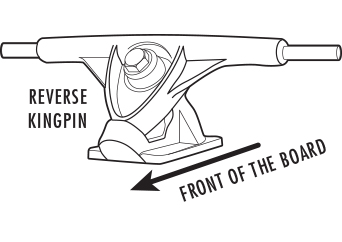 Flipping the truck hanger
You may hear skateboarders talking about "flipping their hangers" or "flipping their trucks." But what does that mean, and how does it affect how your longboard rides? Flipping the hanger so it's facing the opposite direction is a way of lowering truck profile while increasing stability. It makes the trucks less responsive because it changes the hanger's deck lean resistance. Many riders prefer the lower center of gravity, but be aware that this set up can make your longboard more susceptible to wheel bite. Make sure you check for wheel bite before you take it to the streets.
Flipping your truck hanger can only be done with a reverse kingpin truck because the hanger is flat, unlike in a traditional setup. Start by taking out your kingpin and removing the hanger from the baseplate. From there, simply turn your hanger the opposite direction and bolt it back together. You won't need to rotate the bushings when flipping your hanger. You should be aware that not all hangers can be flipped--you will need a truck axle that is offset from the pivot-axis.
For more information on longboard skateboard trucks and other components, check out How To Build A Skateboard.
For the 101 on maintaining and replacing your kingpin and bushings, check out our Longboard Truck Maintenance Guide.
Check out our massive selection of longboard trucks.
---
Longboard Buyer's Guides
Still have questions?
We are Warehouse Skateboards. Our goal is to provide you with great customer service and information to make an informed skate purchase.
Give our customer service team a call at 877-791-9795. They will help you find the right products to fit your skateboarding needs. Still have questions? Please fill out our simple contact form.