Choosing the Right Size Skateboard Elbow Pads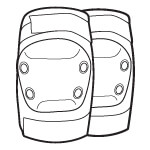 About skateboard elbow pads
Skateboard elbow pads are adjustable skateboard pads designed to protect your bones during falls or wipeouts. Elbow pads can be made of soft, dense foam designed to cushion your elbow during impact, or feature a hard shell of plastic to protect against damage. Today's elbow pads are lightweight and flexible, allowing you to be safe and comfortable even in high-octane skateboarding. Elbow pads are particularly important on when ramp or rail skateboarding; skateboard ramps can tear up your body if you don't take safety precautions. Many riders wear skateboard elbow pads underneath their clothes, though they can be work outside as well.
Elbow pads are sold in sets of two, but are often also sold in combo packs that feature knee pads and wrist pads as well. Warehouse Skateboards has a variety of skateboard elbow pads available--browse our inventory to find the skateboard elbow pads that are right for you.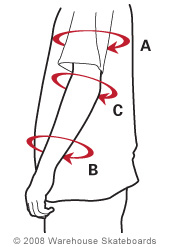 Properly measuring for elbow pads
Well-fitting skateboard elbow pads should not restrict your range of motion, which is why it is important to purchase the right size elbow pads. Elbow pads that are too tight will be uncomfortable and will limit your ability to bend your arm. To ensure that you get the perfect elbow pads, follow the stops below to properly measure your arms:
1. Wrap a soft tape measure around the center of your elbow. Measure around your outstretched arm, either at the middle of your elbow (C), at the top (A) or at the bottom of your arm where the pad will rest (B).
2. If you do not have a flexible tape measure, try marking a string and measuring it against a ruler.
| | | | | |
| --- | --- | --- | --- | --- |
| | Small | Medium | Large | X-Large |
| Weight | under 125 lbs. | 125 - 150 lbs. | 150 - 180 lbs. | 180 lbs. + |
| | | | | | |
| --- | --- | --- | --- | --- | --- |
| | Junior | Small | Medium | Large | X-Large |
| Center (C) Measurement | Fits Juniors | 7" - 8" | 9" - 10" | 11" - 12" | 13" - 14" |
Check out our selection of skateboard elbow pads.
Top Selling Pads
Still have questions?
We are Warehouse Skateboards. Our goal is to provide you with great customer service and information to make an informed skate purchase.
Give our customer service team a call at 877-791-9795. They will help you find the right products to fit your skateboarding needs. Still have questions? Please fill out our simple contact form.