Choosing the Right Skateboard Trucks
Skateboard trucks are the metal T-shaped pieces that mount onto the underside of the skateboard and keep your skateboard wheels and bearings securely attached to the deck. They are a key component when you want to create your own skateboard. Skateboard trucks are composed of several different parts: axles, hangers, kingpins, and bushings. All these parts impact your skateboard's performance.
The type and size of skate trucks you choose directly affect your stability, and what tricks you can and can't do on your skateboard. Choosing and maintaining the right skateboard trucks is also key to avoiding wheel bite, which happens when your wheels rub against your board and cause you to stop on impact during a trick or turn. Trucks can easily be adjusted to perform tighter turns or tricks on your board. You can also choose softer bushings for easy turning, or hard bushings for stiff turning. How loose or tight you keep your trucks really depends on what you skate.
Warehouse Skateboards carries skateboard trucks in lots of sizes and colors, and we have a huge selection of brands to suit your personal taste.
---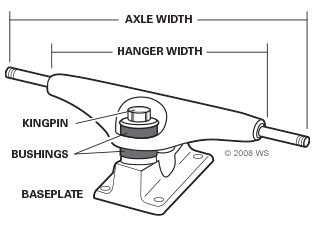 Features of skateboard trucks
Skateboard trucks are made up of several main components:
Axle
The axle is the long pin that runs through the hanger and will attach to the wheels.
Hanger
The hanger is the triangular metal piece that is the largest part of the skateboard truck, and supports the axle, which runs through it.
Kingpin
The kingpin is the big bolt that fits inside the bushings and holds the skate trucks parts together. Recently, hollow kingpins (and axles) have been on the rise, because they are lighter weight but don't compromise strength or durability.
Bushings
The bushings are the soft urethane rings fitted around the kingpin to allow the board to turn and pivot smoothly.
Regardless of what type of board you're rocking, you will need quality trucks. However, if you are riding a vintage board (pre-1990s), your skateboard won't fit most of today's trucks. Contact our customer service to inquire about vintage skateboard fittings.
---
---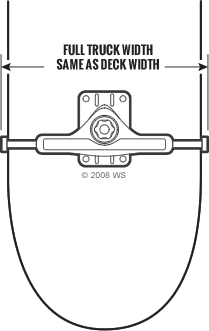 Choosing the right skateboard trucks size
Truck size is measured by axle width or hanger width.The width of the hanger and axle determines how far apart your wheels are. The width of your trucks will affect the performance of your board. Different trucks widths are better suited for certain riding styles. The most common setup is for the truck axle to be approximately the same width as your deck--this setup offers the most stability. Generally speaking, go with an axle that is just over or under 1/4" the width of the board.
6"-7.25" truck axle
- 6.5" to 7.25" skateboard decks
7.5" truck axle
- 7.25 to 7.5" skateboard decks
7.75" truck axle
- 7.5" to 8" skateboard decks
8.0" truck axle
- 8" to 8.5" skateboard decks
8.5" truck axle
- 8.5" to 9" skateboard decks
9.0" truck axle
- 9" to 10" skateboard decks
10.0" truck axle
- 10" wide and above skateboard decks
Choosing a skateboard truck profile
The distance between the hanger and the bottom of the skate deck is known as truck profile. Generally, mid-sized trucks suit most skateboarders, though they can be substituted for high or low trucks depending on skating style.
Low: Designed for small wheels, low trucks provide extra stability for certain moves, such as flip tricks. We recommend a 50-53mm size wheel for low trucks.
Mid: Mid-level trucks are solid choices for park or street skateboarding. We recommend 53-56mm wheel size for mid-level trucks.
High: Ideal for large wheels, high trucks are made for carving and cruising streets. Would work well for a longboard or cruiser. We recommend 56mm+ wheel size for high trucks.

---
Vintage trucks
Finally have the time to fix up and polish that vintage board that's been sitting in your garage for the past couple years? You've come to the right place.
One of the coolest things about this industry is that manufacturers are constantly making improvements and modifications to adapt to different skate styles and tricks. That's why if you examine an older skateboard deck, you may have noticed that today's baseplate is slightly too short for your deck's mounting holes. That's because prior to the modern pattern that we skate today (42mm x 55mm), trucks were made with a longer base plate (42mm x 65mm). This allowed for easier access to nuts and bolts. The longer baseplate would often get hung up when skaters were trying to do nose slides and tail slides, so manufacturers responded by shortening the baseplate. This resulted in--you guessed it--a shorter hole pattern.
Although most of the trucks on the market won't fit the older hole pattern, your best bet is to check out Tracker as well as Independent (159s, 169s, and 215s). They offer 6-hole baseplates, which will fit both the old school pattern and the new school pattern.
For the 101 on maintaining and replacing your kingpin and bushings, check out our Skateboard Truck Maintenance Guide.
Check out our massive selection of skateboard trucks.
---
Skateboard Buyer's Guides
---
Still have questions?
We are Warehouse Skateboards. Our goal is to provide you with great customer service and information to make an informed skate purchase.
Give our customer service team a call at 877-791-9795, or live chat Monday - Friday, 8am - 5pm EST. They will help you find the right products to fit your skateboarding needs. Still have questions? Please fill out our simple contact form.