Product Information
Triple 8 Skateboard Pads Bumsaver Black Hip Pads
These Triple 8 Skateboard Pads Bumsaver Black Hip Pads are an ideal way to protect your rear, hips and thighs. They are designed to wear discreetly under your clothes and are made with a lightweight, breathable, form-fitting mesh fabric for an extra comfy fit. These Triple 8 hip pads are ideal for skateboarding, in-line skating/roller blading, roller derby, and snowboarding. Slip on a pair and feel the difference!
Features:
One (1) Triple 8 Skateboard Pads Bumsaver Black Hip Pads
Size: Junior
Color: Black
Soft, breathable, form-fitting mesh design for greater flexibility & comfort
Shock absorbing EVA foam throughout the hip & tailbone areas
Triple 8 Bumsaver Hip Pads Sizing Chart
To ensure a perfect fit, measure circumference of your waist and match to the sizes listed below:
XS: 22 in – 27 in
S: 26 in – 30 in
M: 29 in – 33 in
L: 32 in – 38 in
XL: 36 in – 42 in
Shop other Triple 8 Hip Pads from Warehouse Skateboards.
Help Guide
Skateboard Hip Pads Sizing Chart
What size hip pads do you need?
Hip pads, also known as tailbone pads, thigh pads or padded shorts, are specifically made to protect your hips and bottom while skateboarding. Warehouse Skateboards carries a wide selection of slim-fitting and low-profile hip pads perfect for any level skater. Today's full-coverage, low-profile, stretch-fit hip pads grant you the extra protection you need when skateboarding, without restricting your movement.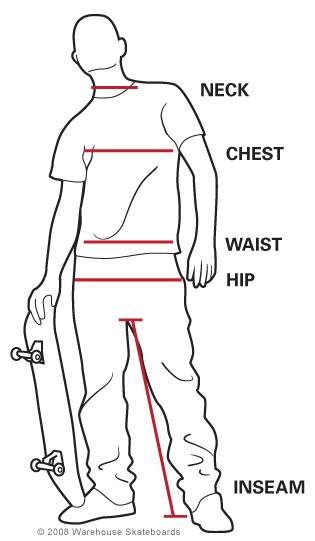 Properly measuring for hip pads
Be sure to select your size based on our fit guide tips. In order to measure yourself properly, follow these instructions to find the best fit for you.
1. Locate your waist size within the hip pads sizing chart.
2. With the pads on, test your range of motion by bending the leg at the knee, watching for restriction.
Hip Pads Sizing Chart
| | | | | | |
| --- | --- | --- | --- | --- | --- |
| | Junior | Small | Medium | Large | X-Large |
| Waist | 22" - 27" | 26" - 30" | 29" - 33" | 32" - 38" | 36" - 42" |
Check out our selection of skateboard hip pads.
If you still have questions about skateboard hip pads, please visit our Skateboard Hip Pads Buying Guide.