Product Information
Madrid Skateboards Dude TM Fish Cruiser Complete Skateboard - 9.5" x 37.25"
Need a ride? Sidewalk surfing has never been smoother than with the Madrid Skateboards Dude TM Fish Cruiser Complete Skateboard - 9.5" x 37.25"! This cruiser from Madrid measures 9.5" wide x 37.25" long and is super easy to travel with. Open the box and get ready to slay the streets with one of Warehouse Skateboards' favorite pre-assembled cruiser boards. Trucks, wheels, bearings, hardware, and grip tape included.
Features:
One (1) Madrid Skateboards Dude TM Fish Cruiser Complete Skateboard from Madrid
Deck Size: 9.5" x 37.25"
USA Made
Reverse kingpin X-Caliber 180mm trucks
Precision steel bearings and risers
Cadillac 70mm 80a wheels
Slight kicktail for control
Milled wheels for reduced wheel bite
Factory assembled by Madrid and ready to skate
Includes trucks, wheels, bearings, hardware, and grip tape
100% guaranteed authentic
Shop other Madrid Cruiser Completes from Warehouse Skateboards.
* Warehouse Skateboards makes every effort to picture products as accurately as possible. Skateboard manufacturers will occasionally offer multiple color schemes for the same product. If the color scheme is critical, please contact our customer service department.
Product Reviews
Customer Questions
Help Guide
Choosing the right Pre-Assembled Complete Skateboard.
If you're a novice skater and you don't want to build a custom complete skateboard, check out our selection of pre-assembled completes. Warehouse Skateboards offers complete skateboards that are built from the same quality parts offered separately on our site.
This is great for a novice skater who doesn't feel like reading this entire breakdown but wants to choose all the right parts. It's also great for the skate-masters who know precisely what they want, since many of our completes are built from our top selling components.

How to Buy a Skateboard Deck

What size skateboard deck should you skate?
Decks come in many different widths. If you are a beginner to skateboarding, choose your deck according to the width, not the length or wheelbase. The width you need depends on your size, skating style and personal preference. Here are some general guidelines.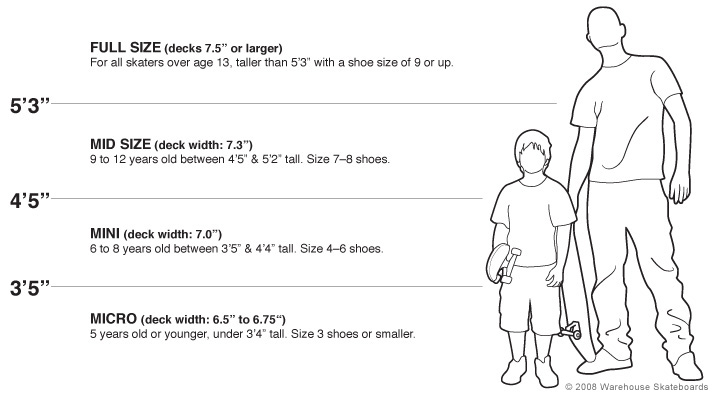 7.5" to 8" - Standard board for adult riders skating streets or doing more technical tricks
8.0" to 8.25" - Skating pools, ramps, and parks
8.25" and larger - Vert, pools, cruising, and just going old school
Check out our massive selection of skateboard decks.
If you still have questions about skateboard decks, please visit our Skateboard Deck Buying Guide.