Product Information
187 Killer Pads Pro Derby Black / Grey Knee Pads - X-Small
Your knees get punished when you skate. Lucky for you, these 187 Killer Pads Pro Derby Black / Grey Knee Pads provide maximum protection with added comfort. 187 Killer Pads Pro Derby Black / Grey Knee Pads are tough enough to handle the hardest falls, allowing you to jump back up and skate again. Keep your knees happy and put your skills to the test with these high-quality pads from 187 Killer Pads.
187 Killer Pads Pro Derby Black / Grey Knee Pads Features:
Comfortable and durable
Size: X-Small
Color: Black / Grey
Designed for roller derby
Low profile and less bulk with high level protection
Removable foam allows for easy washing
Interlocking straps link foam to center of pad casing
Specially formulated to provide the perfect combination of cushion and protection for multiple hard impacts
Rapid FLEX hinge allows pad to respond freely to full range of motion
Fusion Groove channel maintains foam connection to skater's leg and helps eliminate pad slip downs
Lock-in cap system secures and aligns removeable cap in correct position
Light-weight fast drying interior lining
Seamless interior finish for ultimate comfort
Ballistic nylon with industrial-weight stitching ensures durability
Three-panel construction for reliable performance
Open back design for excellent fit and quick on and off
Suitable for skateboarding, roller blading, scooter riding, bicycling, roller skating, and more
Shop other 187 Killer Pads Knee Pads from Warehouse Skateboards.
Help Guide
Skateboard Knee Pads Sizing Charts
Choosing the right skateboard knee pads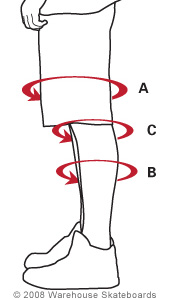 Skateboard knee pads are essential to protecting your body from skateboarding wipeouts. Knee pads are more lightweight than ever, providing you the flexibility and protection you need when skateboarding.
Properly measuring for knee pads
Skateboard knee pads should not restrict movement. With the skateboard pads on, test your range of motion by bending the leg at the knee, watching for restriction. In order to properly measure yourself for knee pads, follow these steps:

1. Wrap a soft tape measure around the center of your knee. Measure around your outstretched leg, either at the middle of your knee (C), at the top (A) or at the bottom of your leg where the pad will rest(B).
2. If you do not have a flexible tape measure, try marking a string and measuring it against a ruler.

Skateboard knee pad sizing charts
| | | | | |
| --- | --- | --- | --- | --- |
| | Small | Medium | Large | X-Large |
| Weight | under 125 lbs. | 125 - 150 lbs. | 150 - 180 lbs. | 180 lbs. + |
| | | | | | |
| --- | --- | --- | --- | --- | --- |
| | Junior | Small | Medium | Large | X-Large |
| Center (C) Measurement | Fits Juniors | 12" - 14" | 14" - 16" | 15" - 17" | 17" - 20" |
Check out our selection of skateboard knee pads.
If you still have questions about skateboard knee pads, please visit our Skateboard Knee Pads Buying Guide.