Product Information
187 Killer Pads Moxi Leopard Wrist Guards - Medium
Eating shit sucks, but these 187 Killer Pads Moxi Leopard Wrist Guards provide maximum protection for your dainty wrists. Do you know what it's like to live with a broken wrist? It's horrible. Don't let yourself be a victim, arm your wrists with these 187 Killer Pads Moxi Leopard Wrist Guards by 187 Killer Pads and make sure you're protected. If anyone tells you that wrist guards are lame, just tell em that the Warehouse Skateboards guys said they're cool now. Now get out there and show em what you got, tiger.
187 Killer Pads Moxi Leopard Wrist Guards Features:
Comfortable and durable
Size: Medium
Color: Moxi Leopard
Suitable for skateboarding, roller blading, scooter riding, bicycling, roller skating, and more
Shop other 187 Killer Pads Wrist Guards from Warehouse Skateboards.
Help Guide
Skateboard Wrist Guards Sizing Chart
Choosing skateboard wrist guards
Skateboard wrist guards help to protect and support your wrists. They provide maximum shock absorption protection when skateboarding. Wrist guards are fully padded, durable, flexible and easy to wrap around your wrist to ensure a tight fit.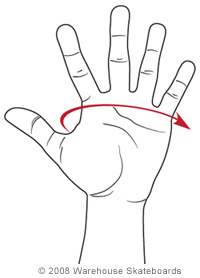 Wrist guards can be worn by beginners who are just getting started, or pros who are looking to be aggressive and learn new skateboarding tricks and stunts. Warehouse Skateboards offers a wide selection of skateboard wrist guards perfect for any level skater. While most wrist guards are adjustable, it is still very important to accurately measure your hand and knuckles to guarantee a solid fit.
Properly measuring for skateboard wrist guards
To measure your hand for correct wrist guard sizing, measure around the four knuckles at the widest point, excluding the thumb.
Skateboard wrist guard sizing chart
| | | | | |
| --- | --- | --- | --- | --- |
| | Small | Medium | Large | X-Large |
| Hand Width | 5" - 6" | 6" - 7.5" | 7.5" - 9" | 9" - 11" |
Check out our selection of skateboard wrist guards.
If you still have questions about skateboard wrist guards, please visit our Skateboard Wrist Guards Buying Guide.