Product Information
Swell Skateboards Tiki Volcano Black / Black / Orange Cruiser Complete Skateboard - 6" x 22"
Need a ride? Sidewalk surfing has never been smoother than with the Swell Skateboards Tiki Volcano Black / Black / Orange Cruiser Complete Skateboard - 6" x 22"! This cruiser from Swell measures 6" wide x 22" long and is super easy to travel with. Open the box and get ready to slay the streets with one of Warehouse Skateboards' favorite pre-assembled cruiser boards. Trucks, wheels, bearings, hardware, and grip tape included.
Features:
Deck - Black with Tiki Volcano design on the bottom
Trucks - Black base and hanger
Wheels - Lava with sanded finish
Bearings - Cosmic Blue ABEC 7 with high speed oil
Bushings - Lava
Bolts - Cosmic Blue
The Tiki Volcano is an inspiration from our travels to the greatest locations on earth. Polynesia encompasses a huge triangular area of the east-central Pacific Ocean. The triangle has its apex at the Hawaiian Islands in the north and its base angles at New Zealand (Aotearoa) in the west and Easter Island (Rapa Nui) in the east. We love to travel and create products that remind us of the our mantra "Livin' Life"

The Tiki Volcano and the Swell Brand is created from years of riding the streets of Santa Barbara. It all started in a garage and has now come to life for others to enjoy.
THE DECK: We start off with a high strength Polymer that has just enough Flexibility but not too much to so it will handle the daily use. It has a waffle non slip surface that never wears out. We remove the shine for a more matte finish look for an amazing appearance.

THE TRUCKS: are created out a the strongest 356 cast aluminum. We then take the trucks and color powder coat then for a durable long lasting finish.
THE WHEELS: are polyurethane wheels that are slightly larger than your typical 22" board so you can get over those small imperfections in the road. Size-59mm Softness-83A

THE BEARINGS: are one of our favorite part of the board. It may not seem like much, but the bearings are the heartbeat of the board. Having bad bearings is like putting bad gas in your car... it just doesn't run as good. Our bearings are Stainless Steel ABEC 7 the industries highest rating. We take these ABEC 7 bearings and pack them with high speed bearing oil for not only a smooth ride, but it will last through those dusty roads or even when you leave it on the lawn and the sprinklers hit it.
THE BUSHINGS: have a Durometer reading of 87a. That is a perfect amount of stiffness for those long fast downhill straightaways and yet soft enough to make some nice wave like turns.
THE BOLTS: are created from high tensile strength steel then painted to create a great color feature on your board. You wont need to worry about these bolts as we have made sure every part is perfect down to the last bolt.
Shop other Swell Cruiser Completes from Warehouse Skateboards.
* Warehouse Skateboards makes every effort to picture products as accurately as possible. Skateboard manufacturers will occasionally offer multiple color schemes for the same product. If the color scheme is critical, please contact our customer service department.
Help Guide
Choosing the right Pre-Assembled Complete Skateboard.
If you're a novice skater and you don't want to build a custom complete skateboard, check out our selection of pre-assembled completes. Warehouse Skateboards offers complete skateboards that are built from the same quality parts offered separately on our site.
This is great for a novice skater who doesn't feel like reading this entire breakdown but wants to choose all the right parts. It's also great for the skate-masters who know precisely what they want, since many of our completes are built from our top selling components.

What size skateboard deck should you skate?
What Size Board do you Need? Find out with our board match tool. It's based on the type of skating, height and shoe size. It's a true science!
Decks come in many different widths. If you are a beginner to skateboarding, choose your deck according to the width, not the length or wheelbase. The width you need depends on your size, skating style and personal preference. Here are some general guidelines.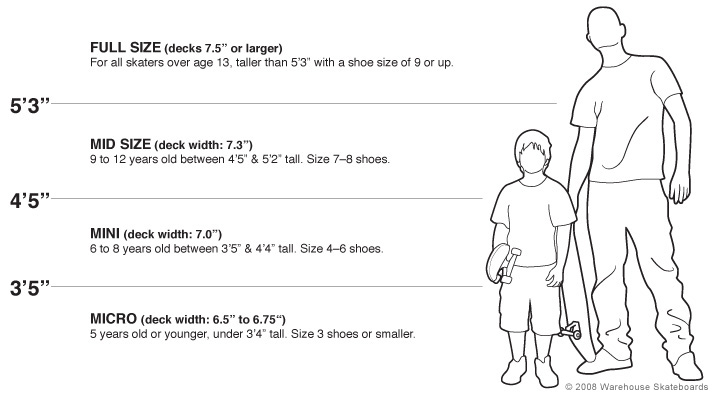 7.5" to 8" - Standard board for adult riders skating streets or doing more technical tricks
8.0" to 8.25" - Skating pools, ramps, and parks
8.25" and larger - Vert, pools, cruising, and just going old school
Check out our massive selection of skateboard decks.
If you still have questions about skateboard decks, please visit our Skateboard Deck Buying Guide.