Product Information
Speed Demons Skateboards Stars Soft Top Micro Complete Skateboard - 6.5" x 29"
This Speed Demons Skateboards Stars Soft Top Micro Complete Skateboard is for the tiniest of skaters! It measures 6.5" long x 29" long and is perfect for youngins ages five and below (under 3'4" tall, size 3 shoes or smaller). They'll have a pro contract and be paying your bills in no time after you buy them this Speed Demons complete!
Features:
One (1) Speed Demons Skateboards Stars Soft Top Micro Complete Skateboard from Speed Demons
Deck Size: 6.5" x 29"
Factory assembled by Speed Demons and ready to skate
Includes trucks, wheels, bearings, hardware, and grip tape
Shop other Speed Demons Micro Completes from Warehouse Skateboards.
* Warehouse Skateboards makes every effort to picture products as accurately as possible. Skateboard manufacturers will occasionally offer multiple color schemes for the same product. If the color scheme is critical, please contact our customer service department.
Help Guide
Choosing the right Pre-Assembled Complete Skateboard.
If you're a novice skater and you don't want to build a custom complete skateboard, check out our selection of pre-assembled completes. Warehouse Skateboards offers complete skateboards that are built from the same quality parts offered separately on our site.
This is great for a novice skater who doesn't feel like reading this entire breakdown but wants to choose all the right parts. It's also great for the skate-masters who know precisely what they want, since many of our completes are built from our top selling components.

What size skateboard deck should you skate?
What Size Board do you Need? Find out with our board match tool. It's based on the type of skating, height and shoe size. It's a true science!
Decks come in many different widths. If you are a beginner to skateboarding, choose your deck according to the width, not the length or wheelbase. The width you need depends on your size, skating style and personal preference. Here are some general guidelines.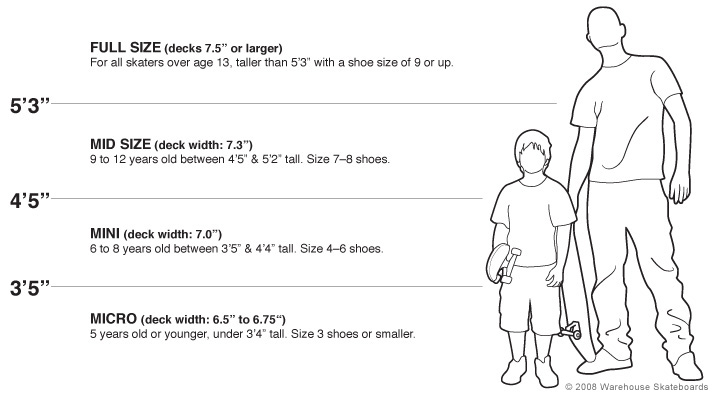 7.5" to 8" - Standard board for adult riders skating streets or doing more technical tricks
8.0" to 8.25" - Skating pools, ramps, and parks
8.25" and larger - Vert, pools, cruising, and just going old school
Check out our massive selection of skateboard decks.
If you still have questions about skateboard decks, please visit our Skateboard Deck Buying Guide.