Product Information
Seismic Skate Systems 36 Grit Lokton Honeycomb Blue 3 Squares of Grip tape - 11" x 11"
Pack of three (3) 11×11-inch square sheets of 36-grit Lokton™ griptape. Color: Midnight Blue.
Available in three lasercut hole patterns, as well as Solid for maximum surface coverage. Honeycomb, Metal-Plate, and Ninja hole patterns decrease weight by up to 40%, while hole edges increase grip.
Noticeably sharper, tougher, and grippier. Grit stays ultra-sharp, doesn't flake off. No smearing or peeling, even in heat or rain. The best grip in the history of grip. Lock in with Lokton™!
Apply Lokton only to clean, dry deck surfaces at room temperature. For best results, follow these directions:
1) If deck is coated with excess lacquer, buff with fine sandpaper and clean off residue with Naptha.
2) Use a blow dryer or heat gun to warm up Lokton after removing release paper but before placing on deck.
3) Place on deck, then immediately apply pressure by standing on all areas of the Lokton.
4) Trim edges by cutting from the top. Do not bend or file edges, as this can cause excessive grain shedding.
Lokton does not always adhere well to the top of other grip tape, but it will conform to the contours of most concaves and implants. The Ninja lasercut conforms more easily to deeper concaves.
The PSA (pressure-sensitive adhesive) on the back of Lokton is some of the best, most heat-resistant on the market. However, it does not always bond well to unusual combinations of deck-top materials and finishes, especially certain types of Formica and heavy lacquer. Your results may vary.
Features:
One (1) sheet of Honeycomb Blue Premium Seismic Skate Systems 36 Grit Lokton Honeycomb Blue 3 Squares of Grip tape from Seismic
Sheet Size: 3 pieces of 11" x 11"
Formulated with long-lasting glue to provide the best grip
Perfect, fine-grit texture and smooth cutting
Great for skateboards, cruisers, longboards, and more
Shop other Seismic Griptape from Warehouse Skateboards.
Product Reviews
Customer Questions
Help Guide
How to Buy Skateboard Grip Tape
Grip tape is sold in single sheets that are 9" X 33". The bottom of the sheet will peel off, revealing a very sticky underside that will stick to the top of the skateboard deck. Once applied to your skateboard, use a box cutter or razor blade to cut your grip tape to fit your skateboard deck exactly.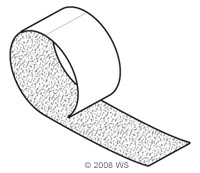 What is skateboard grip tape?
Grip tape is a gritty, sandpaper-like material that is applied with adhesive to the top of the skateboard deck to provide traction. Grip tape allows the rider's feet to grip the surface of the skateboard deck and helps the skater stay on the board while doing tricks. Warehouse Skateboards offers a variety of colors and patterns of grip tape. Grip tape can be used to brighten a board, add texture, and express your personal style. While grip tape is most often found in black, it is available in clear to allow you to show off a company logo, or die-cut to display a design and/or color of your skateboard deck.
If you still have questions about skateboard grip tape, please visit our Skateboard Grip Tape Buying and Installation Guide.