Product Information
Paris Truck Co. Standard Black Pivot Cup Set 2 Pieces - 96a
Pivot cups are a small cushion (usually a "cup" shape) between the "pivot point" of your truck's hanger and the baseplate itself. Their job is to help your truck turn about the baseplate's intended angle, and can prevent unwanted movement in the truck- you'll notice them most when your truck is leaning from side-to-side. There are two main kinds of pivot cups:
Softer pivot cups allow for more lean and rebound, making them ideal for cruising and carving


Harder pivot cups are a better choice for high speeds and aggressive turns making them ideal for downhill speed runs and park skating
These 96a Paris Truck Co. Standard Black Pivot Cup Set 2 Pieces - 96a will keep your trucks flexible and adaptable. Made by Paris Truck Co. from high-quality materials, they provide flexibility and easy adaptability for your skateboard trucks.
Features:
One (1) Paris Truck Co. Standard Black Pivot Cup Set 2 Pieces - 96a from Paris Truck Co.
Hardness: 96a
Color: Black
Keep skateboard trucks flexible and adaptable
Made from high-quality materials and built to last
Note: Sold individually unless otherwise noted.
Shop other Paris Truck Co. Pivot Cups from Warehouse Skateboards.
Help Guide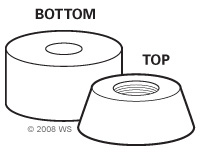 How to Buy Skateboard Bushings
What skateboard truck bushings do I need?
Skateboard bushings are rubbery-like rings that fit into the skateboard trucks. Each skateboard truck usually has two bushings. The bushings are placed between the baseplate and the hanger and provide the cushion mechanism for turning the skateboard. To be specific, one of the bushings provides the flexibility and turning capabilities of the skateboard truck, while the other allows the trucks to be loosened or tightened depending on your personal preferences. Some riders tend to like their skateboard trucks tight, to better perform ticks. The stiffer the bushings, the more resistant the skateboard is to turning. Other skaters choose to loosen their skateboard trucks for street riding or cruising.
To determine the hardness of the skateboard bushings, we refer to the durometer. Skateboard bushing durometer is usually measured on a Durometer A Scale which goes from 1-100 to measure hardness. Some companies use the B Scale which measures 20 points lower, allowing the scale to be extended by 20 points for harder bushings. So an 80b durometer is the same as 100a durometer.