Product Information
Independent Truck Company Stage 11 - 139mm Standard Silver Skateboard Trucks - 5.39" Hanger 8.0" Axle (Set of 2)
Durable all purpose truck for any type of skateboarding. 55mm tall for optimal performance and wheel clearance with wheels 56mm and under. A356 T6 Aluminum Hanger & Baseplate. The best lightweight aluminum alloy heat treated to T6 condition for strength, durability, and grind feel. SCM435 Chromoly Steel Axle. Highest quality and durability available. Grade 8 Kingpin. Never break, never bend. 159 and 169 models feature 6 hole universal baseplate with old and new school mounting pattern. Independent Trucks are Built to Grind and Guaranteed for Life.
NOTE: Sold only as a set of two (2) trucks.
Features:
One (1) set of two (2) Silver Independent Truck Company Stage 11 - 139mm Standard Silver Skateboard Trucks - 5.39" Hanger 8.0" Axle
Axle width: 8.0"
Hanger width: 5.39"
Height: 55mm
Color: Silver
Axle nuts and speed washers included
Constructed from high-quality materials
Shop other Independent Skateboard Trucks from Warehouse Skateboards.
Help Guide
How to Buy Skateboard Trucks
What size skateboard trucks do you need?
Skateboard trucks are the metal T-shaped pieces that mount onto the underside of the skateboard deck. When selecting skateboard trucks, the width of your truck axle should closely match the width of your skateboard deck. The truck size can be measured by the width of the hanger or the width of the axle. Every skateboard requires two trucks.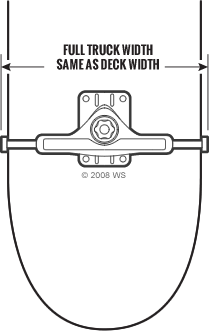 There are several parts that make up the skateboard trucks. The axle is the pin that runs through the trucks to which the wheels will attach. The hanger, usually made of metal, is the largest part of the skateboard truck that is somewhat triangular in shape. The axle runs through the hanger. The kingpin is the large bolt that holds these parts together and fits inside the skateboard bushings.
When purchasing, you will receive the two trucks necessary to assemble your skateboard. Skateboard trucks come in various sizes and colors, and Warehouse Skateboards carries a huge selection of brands to fit your personal preference.
6"-7.25" truck axle
- 6.5" to 7.25" skateboard decks
7.5" truck axle
- 7.25 to 7.5" skateboard decks
7.75" truck axle
- 7.5" to 8" skateboard decks
8.0" truck axle
- 8" to 8.5" skateboard decks
8.5" truck axle
- 8.5" to 9" skateboard decks
9.0" truck axle
- 9" to 10" skateboard decks
10.0" truck axle
- 10" and above skateboard decks
What truck profile height do I need?
Truck profile is the distance between the bottom of the skate deck and the hanger. In general, a mid-sized truck works well for most skateboarders, but high or low trucks may be preferred for different styles of skating.
LOW
Provides extra stability for flip tricks, designed for small wheels (50-53mm wheel size recommended)
MID
Good all-around profile for street or park (53-56mm wheel size recommended)
HIGH
Great for cruising and carving, designed for large wheels (56mm+ wheel size recommended)

Check out our massive selection of skateboard trucks.
If you still have questions about skateboard trucks, please visit our Skateboard Trucks Buying Guide.