Product Information
For over 35 years, Gullwing has produced the best trucks available on the market and they have no plans of slowing down. Whether you rode their trucks as a kid or you just bought your first set, you can always count on Gullwing being innovative, progressive, and offering the best trucks available on the market. If you don't believe it, ask someone who is riding a set. The Gullwing Army is out there and ready to make you a believer!
The Gullwing Sidewinder truck is a little bit more special than your run of the mill skate truck. This guy has two pivot points allowing you to turn twice as sharp and fast as the standard truck. Even better, the double action pivot lets you generate speed just by your own turning momentum. That means no kick-push! Double pivot your way into a world of fun with these trucks.
*Make sure you have the right shaped deck with enough clearance to avoid wheel bite.
The Sidewinder II 6.25" Features:
Axle width: 9.0"
Hanger width: 6.25"
Double kingpin set up for major response
Generate your own speed and pivot with ease!
Shop other Gullwing Double Kingpin Trucks from Warehouse Skateboards.
Help Guide
How to Buy Skateboard Trucks
What size skateboard trucks do you need?
Skateboard trucks are the metal T-shaped pieces that mount onto the underside of the skateboard deck. When selecting skateboard trucks, the width of your truck axle should closely match the width of your skateboard deck. The truck size can be measured by the width of the hanger or the width of the axle. Every skateboard requires two trucks.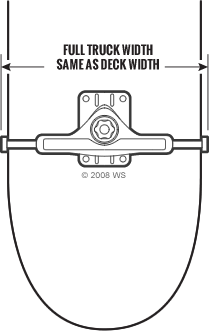 There are several parts that make up the skateboard trucks. The axle is the pin that runs through the trucks to which the wheels will attach. The hanger, usually made of metal, is the largest part of the skateboard truck that is somewhat triangular in shape. The axle runs through the hanger. The kingpin is the large bolt that holds these parts together and fits inside the skateboard bushings.
When purchasing, you will receive the two trucks necessary to assemble your skateboard. Skateboard trucks come in various sizes and colors, and Warehouse Skateboards carries a huge selection of brands to fit your personal preference.
6"-7.25" truck axle
- 6.5" to 7.25" skateboard decks
7.5" truck axle
- 7.25 to 7.5" skateboard decks
7.75" truck axle
- 7.5" to 8" skateboard decks
8.0" truck axle
- 8" to 8.5" skateboard decks
8.5" truck axle
- 8.5" to 9" skateboard decks
9.0" truck axle
- 9" to 10" skateboard decks
10.0" truck axle
- 10" and above skateboard decks
What truck profile height do I need?
Truck profile is the distance between the bottom of the skate deck and the hanger. In general, a mid-sized truck works well for most skateboarders, but high or low trucks may be preferred for different styles of skating.
LOW
Provides extra stability for flip tricks, designed for small wheels (50-53mm wheel size recommended)
MID
Good all-around profile for street or park (53-56mm wheel size recommended)
HIGH
Great for cruising and carving, designed for large wheels (56mm+ wheel size recommended)

Check out our massive selection of skateboard trucks.
If you still have questions about skateboard trucks, please visit our Skateboard Trucks Buying Guide.