Product Information
Dooks Skateboard Riser Pads Shock Pads - Set of Two (2) - 1/8"
Do you struggle with loose nuts after each session? Then try a set of Dooks shock pads! These magical little anti-vibration cushions will give your ride a slight shock absorbtion and keep your nuts extra tight. Loose nuts are nothing to joke about, please skate responsibly.
NOTE: Dooks Skateboard Riser Pads Shock Pads - Set of Two (2) are sold in sets of two unless otherwise noted.
Features:
Two (2) Dooks Skateboard Riser Pads Shock Pads - Set of Two (2) from Dooks
Height: 1/8"
Provides slight shock absorbtion to help keep nuts tight
1" hardware recommended
Sold in sets of two unless otherwise noted
Shop other Dooks Shock Pads from Warehouse Skateboards.
Help Guide
How to Buy Skateboard Riser Pads
What size hardware do I need if I use riser pads?
No riser - 7/8" to 1" hardware
1/8" riser - 1" to 1 1/8" hardware
1/4" Riser - 1 1/4" hardware
1/2" riser - 1 1/2" hardware
Check out the available skateboard riser pads currently in stock.
Do I need riser pads for my skateboard?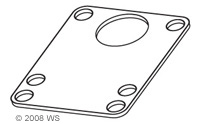 A riser is a flat plastic pad that can be mounted between the skateboard truck and the skateboard deck. Riser pads increase the space between the truck and deck, raising the board up so that you don't experience wheel bite. Wheel bite occurs when the wheel touches the skateboard deck during a sharp turn and stops the wheel from rotating. Riser pads come in a variety of colors and thickness levels. Depending on your skateboarding style, riser pads can prolong the life of your skateboard deck by reducing the risk for stress cracks where the deck and the trucks meet.
Skateboard decks that use wheels smaller than 55mm do not typically require risers; however, 1/8" risers can help keep the hardware from vibrating loose.
As the wheels get larger, there's a greater chance for wheel bite, which may cause a nasty wipeout. In general, the longer the board and the larger the wheel, the more height is needed in a riser pad.
If you still have questions about skateboard risers, please visit our Skateboard Risers Buying Guide.