Product Information
Cortina Bearing Co Elijah Berle Signature Model Silver Skateboard Bearings
These brand new, professional grade bearings by Cortina Bearing Co are pre-lubricated for a smooth, fast ride. They come in the standard size (608 with an 8mm core, 22mm outer diameter, and 7mm width) and provide the best for performance and durability. Each set of Cortina Bearing Co Elijah Berle Signature Model Silver Skateboard Bearings contains eight (8) bearings, which is enough for four (4) wheels.
Cortina's Signature Series Bearings are built with premium materials and engineered to withstand daily heavy use.
Features:
One (1) set of eight (8) Cortina Bearing Co Elijah Berle Signature Model Silver Skateboard Bearings from Cortina Bearing Co
Rating:
Industry standard size: 608 with a 8mm core, 22mm outer diameter, and 7mm width
Pre-lubricated for a smooth, fast ride
Matching Axl Nuts and Washers
Interchangeable Shields
Shield Popper for Easy Customization
Shop other Cortina Bearing Co Bearings from Warehouse Skateboards.
Help Guide
How to Buy Skateboard Bearings
What size skateboard bearings do I need for my skateboard wheels?
All skateboard bearings are the same size, so you don't need to worry about size when selecting bearings.
Skateboard bearings are used to mount the skateboard wheels to the skateboard axle. Skateboard bearings are all the same size and will fit any skateboard wheel that Warehouse Skateboards sells.
While they do not vary in size, they do vary in quality. The rule of thumb tends to be that the more expensive the skateboard bearings, the higher the quality. Cheaper bearings are typically made of lower quality materials, which can get deformed or break completely under the pressure of skateboarding. Inexpensive bearings may also not be sealed as well, resulting in dirt and debris in your bearings that will slow your board down dramatically. The more expensive skateboard bearings are sealed, with higher precession machining, and higher-quality metals. They will remain fast and precise over time with proper maintenance.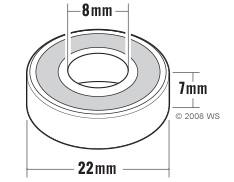 ABEC ratings
Most bearings are measured by an ABEC rating. The higher the ABEC rating, the more accurate and precise the bearing will be. This rating system includes grades 1, 3, 5, 7, and 9. The ABEC rating does not specify many critical factors, such as load handling capabilities, ball precision, materials, material Rockwell hardness, degree of ball and raceway polishing, noise, vibration, and lubricant. Due to these factors, an ABEC 3 classified bearing could perform better than an ABEC 7 bearing.
Many companies do not use the ABEC rating scale, such as Bones Bearings. Bones Bearings uses their own rating system known as Skate Rated. These bearings do not follow the ABEC ratings because they are superior in quality and the ABEC rating ignores many quality factors in which Bones Bearings prides itself.