Product Information
Each Bones Race REDS Bearing is made with upgraded top quality bearing steel, ground to perfection and polished, best for racers who use precision trucks and properly tighten their axle nuts
Precision ground 0.200 built in spacer to provide perfect 0.400 spacing between bearings.
Precision ground extended race eliminates the need for speed washers, and provides better alignment of the bearings when the axle nut is tightened.
Lubricated with Bones Speed Cream R.F.
A groove on the inside of each bearings inner race eliminates weight and allows insertion and removal of the bearing using the Bones Bearing Tool, even on hub wheels
Features
Precision ground, Skate Rated™ Racing bearings by Bones®
Removable high-speed Nylon™ ball retainers
Removable Non-Contact frictionless shield for easy cleaning
Integrated bearing spacer to provide perfect 0.400" spacing
Extended race replaces need for spacers and washers
Extended race provides perfect alignment for greater speed and axle reinforcement
Fewer parts mean faster set up
Shop other Bones Bearings Bearings from Warehouse Skateboards.
Help Guide
How to Buy Skateboard Bearings
What size skateboard bearings do I need for my skateboard wheels?
All skateboard bearings are the same size, so you don't need to worry about size when selecting bearings.
Skateboard bearings are used to mount the skateboard wheels to the skateboard axle. Skateboard bearings are all the same size and will fit any skateboard wheel that Warehouse Skateboards sells.
While they do not vary in size, they do vary in quality. The rule of thumb tends to be that the more expensive the skateboard bearings, the higher the quality. Cheaper bearings are typically made of lower quality materials, which can get deformed or break completely under the pressure of skateboarding. Inexpensive bearings may also not be sealed as well, resulting in dirt and debris in your bearings that will slow your board down dramatically. The more expensive skateboard bearings are sealed, with higher precession machining, and higher-quality metals. They will remain fast and precise over time with proper maintenance.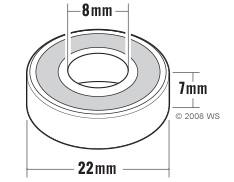 ABEC ratings
Most bearings are measured by an ABEC rating. The higher the ABEC rating, the more accurate and precise the bearing will be. This rating system includes grades 1, 3, 5, 7, and 9. The ABEC rating does not specify many critical factors, such as load handling capabilities, ball precision, materials, material Rockwell hardness, degree of ball and raceway polishing, noise, vibration, and lubricant. Due to these factors, an ABEC 3 classified bearing could perform better than an ABEC 7 bearing.
Many companies do not use the ABEC rating scale, such as Bones Bearings. Bones Bearings uses their own rating system known as Skate Rated. These bearings do not follow the ABEC ratings because they are superior in quality and the ABEC rating ignores many quality factors in which Bones Bearings prides itself.