Product Information
Andale Skateboard Bearings 8mm Johnson Note Pad Precision Includes Free Sketch Book
Andalé Marc Johnson Notepad Pro Rated Bearings
Set of 8 Bearings with 4 Bearing Spacers.
Comes with an 80 page sketch book and pencil.
Features:
· Marc Johnson Signature Pro Bearings.
· Premium Pro Rated Andalé Bearings Tested and Selected by MJ.
· Higher quality steel races, better quality and grade balls, and a superior surface finish.
· Single, non-contact, removable rubber shield for easy cleaning and less friction.
· High speed nylon ball retainer for greater strength and speed.
· High Impact Testing: These bearings have been tested against crushing forces of over a ton. That's a spicy ollie!
The Marc Johnson Notepad Pro Rated Bearings set comes with a pocket sized sketch book with cover art from one of Marc's hand painted decks. Take the sketch book on skate trips to doodle, keep a spot list, or write down numbers from the lucky ladies you run into. Andalé Bearings is a skater owned and operated company headed up by Joey Brezinski and Paul Rodriguez. Andalé aims to bring you the best quality bearings at affordable prices to keep you rolling strong. Andale was founded in 2010 by Joey and Paul, since then they have developed premium bearings and built up a solid team of riders ranging from up and coming ams to legends like Daewon Song and Marc Johnson. Always Fast. Pro Rated; Team Andalé Tested and Approved.
Shop other Andale Bearings from Warehouse Skateboards.
Help Guide
How to Buy Skateboard Bearings
What size skateboard bearings do I need for my skateboard wheels?
All skateboard bearings are the same size, so you don't need to worry about size when selecting bearings.
Skateboard bearings are used to mount the skateboard wheels to the skateboard axle. Skateboard bearings are all the same size and will fit any skateboard wheel that Warehouse Skateboards sells.
While they do not vary in size, they do vary in quality. The rule of thumb tends to be that the more expensive the skateboard bearings, the higher the quality. Cheaper bearings are typically made of lower quality materials, which can get deformed or break completely under the pressure of skateboarding. Inexpensive bearings may also not be sealed as well, resulting in dirt and debris in your bearings that will slow your board down dramatically. The more expensive skateboard bearings are sealed, with higher precession machining, and higher-quality metals. They will remain fast and precise over time with proper maintenance.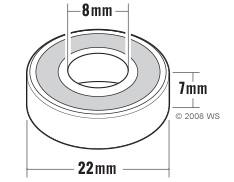 ABEC ratings
Most bearings are measured by an ABEC rating. The higher the ABEC rating, the more accurate and precise the bearing will be. This rating system includes grades 1, 3, 5, 7, and 9. The ABEC rating does not specify many critical factors, such as load handling capabilities, ball precision, materials, material Rockwell hardness, degree of ball and raceway polishing, noise, vibration, and lubricant. Due to these factors, an ABEC 3 classified bearing could perform better than an ABEC 7 bearing.
Many companies do not use the ABEC rating scale, such as Bones Bearings. Bones Bearings uses their own rating system known as Skate Rated. These bearings do not follow the ABEC ratings because they are superior in quality and the ABEC rating ignores many quality factors in which Bones Bearings prides itself.