eGift Card from Warehouse Skateboards
Not sure what to get the skater in your life? Warehouse Skateboards offers eGift Cards in any amount from $5 to $150. These electronic gift cards can be delivered via email to anyone with a valid email address. The recipient of your eGift Card will receive an email with a gift code redeemable at warehouseskateboards.com.
After you purchase your eGift Card, you will receive a confirmation email. It typically takes 2-4 hours to process an eGift Card order (when ordered during normal business hours). Once it is processed and delivered, you will receive another email letting you know.
Fill out the form below to purchase your Warehouse Skateboards eGift Card now.
Note: eGift Cards must be purchased separately from other merchandise.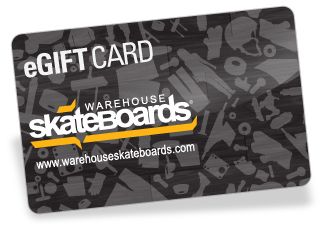 Important Information About eGift Cards
How to receive a hard copy of your eGift Card
Fill out the eGift Card purchasing form, and send to your email address.
The eGift Card will be delivered to your email inbox on your desired delivery date.
Select "View Online" at the top of the email.
Print the eGift Card and deliver to the recipient yourself.
NOTE: Warehouse Skateboards is not responsible for eGift Cards that are lost, stolen, or deleted unintentionally. When sending eGift Cards, please be sure your recipient is expecting an email from warehouseskateboards.com with the subject line, "You have received an eGift Card". If your eGift Card has not arrived within 24 hours of your delivery date, check your SPAM folder to ensure it hasn't been filtered before calling Warehouse Skateboards Customer Service.
Redeeming an eGift Card
Go to www.warehouseskateboards.com and select the item(s) you wish to purchase
When you're ready to checkout, click on "Checkout"
Proceed through the checkout, so we have the right information about where to send your package(s)
Enter your eGift Card Number and PIN on the PAYMENT page and click "APPLY" (If you have more than one eGift Card simply apply each code and PIN number separately)
If the amount of your eGift Card(s) does NOT cover the total order amount, you will need to pay for the remainder of the purchase with a valid credit card
If the amount of your eGift Card(s) is for MORE than the total order amount, the balance amount will be stored with your account and you may apply the balance towards your next purchase
Rules & Regulations for eGift Cards
Warehouse Skateboards eGift Cards must be redeemed through WarehouseSkateboards.com
eGift Cards are non-transferable, non-refundable and are not redeemable for cash
eGift Cards never expire
You must enter both the eGift Card number and PIN number in order to redeem the eGift Card
Sorry, we cannot replace lost or stolen eGift Cards
No sales tax is charged when buying eGift Cards; however, purchases paid for with eGift Cards will be charged applicable sales tax if the shipped to address is in North Carolina
If you have any additional questions, please contact our Customer Service Department