How to Buy Longboard Trucks
Longboard trucks are the metal T-shaped pieces that mount onto the underside of the longboard deck. The longboard truck size can be measured by the width of the hanger or the width of the axle. Every longboard skateboard requires two trucks.
Longboard trucks are extremely different than standard skateboard trucks. The primary difference is that the trucks hangers are often wider. This is to accommodate for the the difference in the decks length. The two most common longboard truck sizes are 150mm and 180mm. Longboard trucks are sometimes equipped with inverted or reversed kingpins. A longboard truck is known as a "reverse kingpin" truck because the axle is on the other side of the kingpin compared to a standard truck. Longboard trucks are designed to allow for easy turning and maneuverability; therefore, they often have softer urethane bushings. A downhill truck tends to have a much harder bushing in order to stabilize the longboard at high speeds.
When purchasing, you will receive the two longboard trucks necessary to assemble your longboard skateboard. Longboard trucks come in various sizes and colors, and Warehouse Skateboards carries a huge selection of brands to fit your personal preference.
What Size Longboard Trucks Do You Need?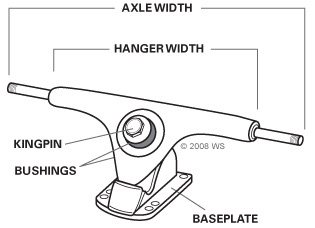 Longboard truck hanger width
The axle of the truck runs through the hanger. For longboards, the hanger width is meant to match the width of your board. For a 9" deck or wider you will require a minimum of 180mm hanger width. Cruisers and carving longboards that are a bit slimmer can usually get away with 150mm hanger width.
Longboard truck baseplate angle
The top part of the truck that is screwed to the deck and is called the baseplate. The baseplate angle ultimately affects how a longboard handles turns. It determines the amount of deck lean, as well as the overall turn ratio. Having a low baseplate angle will make the truck turn less, while a high baseplate angle will make the truck turn more. A standard baseplate for longboards is 50 degrees. Having a 50-degree angle allows you to carve and cruise, while providing stability for downhill riders as well. A 44-degree baseplate with a 180mm hanger is usually sufficient for an experienced downhill rider.
Check out our massive selection of longboard trucks.
If you still have questions about longboard trucks, please visit our Longboard Trucks Buying Guide.