How to Buy Skateboard Bushings
What skateboard truck bushings do I need?
Skateboard bushings are rubbery-like rings that fit into the skateboard trucks. Each skateboard truck usually has two bushings. The bushings are placed between the baseplate and the hanger and provide the cushion mechanism for turning the skateboard. To be specific, one of the bushings provides the flexibility and turning capabilities of the skateboard truck, while the other allows the trucks to be loosened or tightened depending on your personal preferences. Some riders tend to like their skateboard trucks tight, to better perform ticks. The stiffer the bushings, the more resistant the skateboard is to turning. Other skaters choose to loosen their skateboard trucks for street riding or cruising.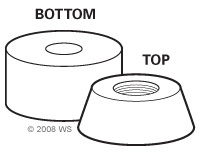 To determine the hardness of the skateboard bushings, we refer to the durometer. Skateboard bushing durometer is usually measured on a Durometer A Scale which goes from 1-100 to measure hardness. Some companies use the B Scale which measures 20 points lower, allowing the scale to be extended by 20 points for harder bushings. So an 80b durometer is the same as 100a durometer.
Check out the available skateboard truck bushings currently in stock.
If you still have questions about skateboard truck bushings, please contact Customer Service.